Adventure Packages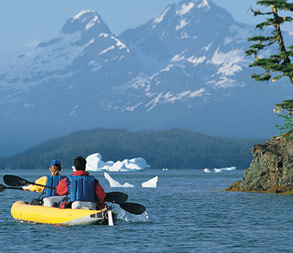 Want to go river rafting in Denali or flightseeing in Talkeetna? Maybe you'd prefer to go sea kayaking in Kenai Fjords National Park?
Our Adventure tours allow you to travel independently, but provide the security of having fine accommodations and exciting tour activities arranged in advance of arrival to Alaska.
Extend your adventure by combining one or more of these tours. We can customize your Alaska Vacation to meet your budget, interests and activity level. Give us a call!
---

Denali Explorer
5 Days / 4 nights
Denali * Talkeetna
Head straight to Denali National Park for an unforgettable vacation. There is so much to see and do, you'll want to plan ahead so you can fit it all in! Explore the untamed wilderness of Denali National Park on a narrated tour or test your skills at white water rafting.
---

Seward Sojourner
4 Days / 3 nights
Seward
More than an Adventure - this getaway will refresh your spirit and quench your thirst for the great outdoors! From spectacular train rides to dog mushing, hiking to a glacier and see lots of marine wildlife and glaciers, this tour also has time for your own custom adventure.
---

Talkeetna Trekker
2 Days / 1 Night
Talkeetna
If you only get a few days free, don't miss a trip Talkeetna. This small Alaskan town is home to less than 400 annual residents. From here you can fly around Mt. McKinley and land on a glacier in Denali National Park. Stay at the luxurious Talkeetna Alaskan Lodge.
---

Fox Island Escape
3 days / 2 Nights
Fox Island
Only Kenai Fjords Tours offers guests an opportunity to visit Fox Island, former home to Rockwell Kent during 1918-1919. He was a painter and a writer. Now you can explore the wonders of Fox Island too! There are eight oceanside cabins on Fox Island, each with private shower and toilet, two beds, table and chairs and a view of the water. The island gets its power from wind and solar powered generators. No televisions, radios, or phones will disrupt your Escape to Fox Island.
---

Fox Island Overnight
2 Days / 1 Night
Fox Island
Leave your busy life behind! This two day package to Kenai Fjords Wilderness Lodge located on Fox Island in Resurrection Bay near Seward is just what you need for a quick getaway. Tour includes a private cabin, shower and bathroom, all meals prepared by our exclusive chef and a cruise to Northwestern Fjord.
---
[ Back to '2008 Packages and Itineraries' ]