Travel Trade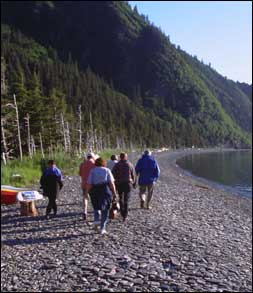 Welcome to the "Travel Trade" section. Our goal at Alaska Heritage Tours is to provide superior quality, ease of reservations, and competitive rates for the following services:
Warmth, spirit, knowledge and authenticity-these are the qualities that make Alaska Heritage Tours a unique travel experience.

We value your business and look forward to a prosperous year together. Let us share the culture and heritage of "Alaska - The Great Land" with your clients, our guests.

FAM Trips
Travel Agents must have a current IATA or CLIA certification. To request a FAM trip submit a completed Travel Agent Survey (26k PDF). Upon verification, a confirmation number will be emailed if space is available.
Online Booking
New in Summer 2008 - we have launched our S.M.A.R.T. online booking program:
Save time booking online
Make your own reservations
Add special requests
Receive email confirmations
Tell your clients they are ready to come to ALASKA!!
Create Agent Account Log In - Online Agency Access
Online
Booking
Benefits

Commissioned
Agents
Net Rate
Agents
Group
Leaders
24 hour access
7 days a week / 365 days a year
Yes
Yes
Yes
Immediate Email
Confirmation
Yes
Yes
Yes
Choose cruise date and time
your client requested
Yes
Yes
Yes
Select room type that
meets your clients needs
Yes
Coming
Soon!
Coming
Soon!
Submit Special Requests
Food Allergies, Bed Type,
Accessibility Needs
Yes
Yes
Yes
We accept all major credit cards
Visa, Mastercard, American Express
Yes
Yes
Yes
Secure online transactions
through Verisign
Yes
Yes
Yes
Access FAM Tour Details
Yes
Yes
Yes
Monthly Email updates

Yes
Yes
Yes
If you do not find the information you are looking for, please feel free to contact a member of the sales team or our reservation agents. They are a wonderful resource for trip planning as well as local facts. We look forward to showing you our great state!
Sincerely,
Lisa Frye
Manager, Sales & Marketing
[email protected]
Ethan Tyler
Sales Manager, Marine Division
[email protected]
Dee Dee Kay
Sales Manager, Lodge Division
[email protected]
[ Back to 'Alaska Heritage Tours' ]