Our Heritage & Culture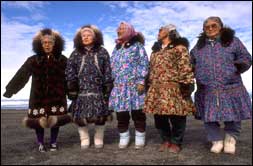 Alaska Heritage Tours and its parent company,
CIRI
, is owned by more than 7,200 Alaska Native shareholders of Athabascan and southeast Indian; Inupiat and Yup'ik Eskimo; and Aleut descent.
Athabascan Indians are from the state's interior and Southcentral Alaska. Nomadic in nature, Athabascans were known as hunters and gatherers, living on moose and caribou, plants, berries, and fish.
Aleuts were primarily maritime people, living on sea life and land mammals. Today, the largest population of Aleut people live on the Pribilof Islands and along the Aleutian Chain.
Traditionally, Yup'ik and Inupiat Eskimos lived on the shores of the Bering Sea and Arctic Ocean. They subsisted on whale, walrus, and seal, and were known for their ivory carvings and grass and baleen basket weavings.
Tlingit, Haida, and Tsimshian Indians are from Southeast Alaska. Traditionally, they were fishers, hunters, artists, and carvers. Towering totem poles, dance masks, and decorative button blankets are representative of their clans.
[ Back to 'Alaska Heritage Tours' ]