Talkeetna Trekker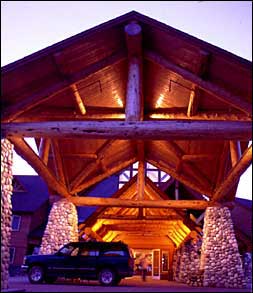 Photo: Talkeetna Alaskan Lodge
2 Days / 1 Night
Travel by rail to the Talkeetna Alaskan Lodge offering an unsurpassed view of the Alaska Range. This afternoon, float the glacier fed braided rivers of the Talkeetna - Susitna River Valley. Spend the rest of the day at leisure shopping and museum hopping. Overnight at the Talkeetna Alaskan Lodge. Start the day with a breathtaking flight to Denali National Park - add a glacier landing if you wish. Depart late afternoon by rail for the return to Anchorage.

Talkeetna Trekker includes:
Day 1 Anchorage / Talkeetna
Rail from Anchorage to Talkeetna (8:15 am - 11:05 am
Talkeetna River rafting tour (2:30 pm - 4:30 pm)
Talkeetna Alaskan Lodge overnight (mountain side room)
Day 2 Talkeetna / Anchorage
Scenic flight over Denali National Park (10:30 am - 11:30 am)
Rail from Talkeetna to Anchorage (4:40 pm - 8:00 pm)
Tour Ends
Talkeetna Trekker
2008 Peak Season Rates
Valid June 1 - August 31, 2008
Single
1 per room
Double
2 per room
Triple
3 per room
Quad
4 per room
Child
Ages 2-11
$819
$619
$557
$527
$317
Prices are stated per person. Taxes and fees are not included. Rates and dates are subject to change without notice. This package may be booked directly with Alaska Heritage Tours or through your personal Travel Agent. Click here for Booking Terms and Conditions.
---
Additional Activities
Book additional activities now and extend your the adventure! We developed this itinerary as a starting point for your Alaska Heritage Tours adventure. If you would like more choices, we can add a wide variety of options to suit your individual needs.
Talkeetna Activities
Guided fishing excursion
Extended flightseeing tours over Denali
Glacier landings for flightseeing tour
Dog Sled Kennel Tours
[ Back to 'Adventure Packages' ]