Fox Island Overnight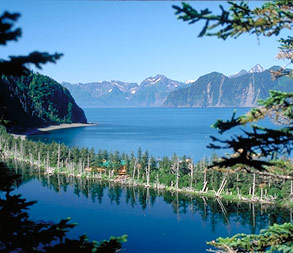 Photo: Fox Island
Call 1-877-777-2805 to
book your vacation today!
A Kenai Fjords Tours exclusive!
2 Days / 1 Night

View Video and Virtual Tours
Stay overnight at the remote Kenai Fjords Wilderness Lodge located on Fox Island in the heart of Resurrection Bay. This all inclusive adventure begins with a cruise to Fox Island, a delicious salmon bake lunch, your own private cabin, dinner prepared by our private chef, a hot breakfast to start the day and a full day cruise on our premium Northwestern Fjords Tour to see glaciers and wildlife. During your overnight stay on Fox Island book an optional guided sea kayaking tour, practice your rock skipping skills, comb the beach for treasures or just kick back and relax.

Fox Island Overnight Includes:
Day 1 - Seward / Fox Island
Depart Seward for Fox Island (12:00 pm)
Lunch on Fox Island (1:00 pm)
Afternoon at leisure for hiking, rock skipping, beach combing
National Park Ranger talk
Dinner prepared by the Island's Chef (7:00 pm)
Day 2 - Fox Island / Seward
Breakfast prepared by the Island's Chef (8:00 am)
Northwestern Fjord Tour (9:45 am - 6:00 pm)
Return to Seward
Tour Ends
Other Options
We developed this itinerary as a starting point for your two-day adventure, but we can add a wide variety of options to suit your individual needs. Additional Customizable Options Include:
Guided Sea Kayaking
Guided walking tour to Exit Glacier
Tour the dog sled kennel of 2004 Iditarod Champion - Mitch Seavey
Overnight at Seward Windsong Lodge
Rail or Coach transportation between Anchorage and Seward


**Additional options are not included in the original package price.
Fox Island Overnight
2008 Peak Season Rates
May 23 - September 6, 2008
Single
1 per room
Double
2 per room
Triple
3 per room
Quad
4 per room
Child
Ages 2-11
$459
$359
$359
$359
$179
Prices are stated per person. Taxes and fees are not included. Rates and dates are subject to change without notice. This package may be booked directly with Alaska Heritage Tours or through your personal Travel Agent. Click here for Booking Terms and Conditions.
[ Back to 'Adventure Packages' ]