BEST OF: Denali National Park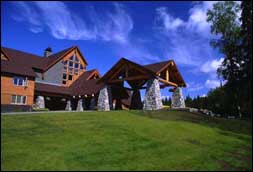 Photo: Talkeetna Alaskan Lodge
7 Days & 6 Nights
The Best of Denali National Park tour travels north by coach through hurricane gulch to Denali National Park. Head deep into the heart of Denali National Park for a two night stay at the Kantishna Roadhouse, where the unspoiled beauty of 6 million acres surrounds your private cabin. All meals and activities are provided by your hosts at this unique Alaskan Roadhouse so you can relax and enjoy the pristine wilderness.
Explore South Denali from the historic town of Talkeetna, home to just over 300 annual residents. Known as base camp for climbers attempting to summit Mt. McKinley, this small Alaskan town is rich with stories and adventure seekers from around the world. You will be astonished at the spectacular beauty of Mt. McKinley from the breathtaking vistas found at the Talkeetna Alaskan Lodge.

Best of Denali National Park includes
Day 1 - Anchorage
Alaska Native Heritage Center general admission
Overnight in Anchorage
Day 2 - Anchorage / Denali
Park Connection Anchorage to Denali (7:00 am - 12:30 pm)
Cabin Night Dinner Theatre (5:30 pm - 7:30 pm)
Overnight at the entrance to Denali National Park
Day 3 - Denali Backcountry Adventure
Narrated Bus into Denali National Park
Overnight at the remote Denali Backcountry Lodge
Day 4 - Denali Backcountry Lodge
Activities in Denali at leisure
Second overnight at the Denali Backcountry Lodge
Day 5 - Denali / Talkeetna
Bus to Denali Park Entrance (6:45 am - 11:30 am)
Alaska Railroad from Denali to Talkeetna (12:15 pm - 4:40 pm)
Overnight Talkeetna Alaskan Lodge (mountain side room)
Day 6 - Talkeetna
Day 7 - Talkeetna / Anchorage
Scenic flight over Denali National Park (10:30 am - 11:30 am)
Alaska Railroad Talkeetna to Anchorage (4:40 pm - 8:00 pm)
Tour Ends
Best of Denali National Park
2008 Peak Season Rates
Valid June 15 - August 31, 2008
Single
1 per room
Double
2 per room
Triple
3 per room
Quad
4 per room
Child
Ages 2-11
$2885
$2067
$1835
$1695
$upon request
Reverse itinerary available upon request. Significant discounts are possible in May or September based on availability of accommodations and activities. Prices are stated per person. Taxes and fees are not included. Rates and dates are subject to change without notice. This package may be booked directly with Alaska Heritage Tours or through your personal Travel Agent. Click here for Booking Terms and Conditions.
[ Back to 'Alaska's National Parks' ]