Denali Explorer Adventure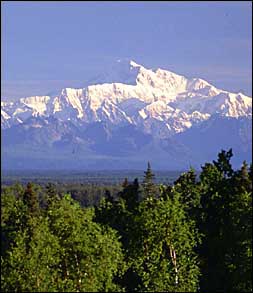 Photo: Denali, Mt. McKinley, 20,320 Feet
Call 1-877-777-2805 to
book your vacation today!
5 days / 4 nights
The Denali Explorer allows our guests time to discover the allure of Denali National Park. Travel by coach from Anchorage to Denali and arrive late in the afternoon. This evening, book a rafting trip or enjoy learning about Alaska's history at the notorious Cabin Night dinner theatre. Embark on an all day excursion deep into the wilderness to view the wildlife and unspoiled beauty of this pristine environment.
Wake from your second night in Denali for a morning at leisure. This afternoon depart by rail for the breathtaking ride through Hurricane Gulch before arriving at Talkeetna Alaskan Lodge for your next overnight. There is lots to do in Talkeetna; fly over Denali National Park, take a jetboat tour on a glacier fed river, visit the museums or shop for souvernirs at the local stores.

Denali Explorer includes:
Day 1 - Anchorage
Alaska Native Heritage Center general admission
Overnight - Anchorage
Day 2 - Anchorage / Denali
Coach - Anchorage to Denali (7:00 am - 12:30 pm)
Cabin Night Dinner Theatre (5:30 pm - 7:30 pm)
Overnight - Denali National Park Entrance
Day 3 - Denali National Park
Tundra Wilderness Trails Tour (6:00 am - 7:00 pm)
Overnight - Denali National Park Entrance
Day 4 - Denali / Talkeetna
Alaska Railroad - Denali to Talkeetna (12:15 pm - 4:40 pm)
Overnight - Talkeetna Alaskan Lodge (mountain side room)
Day 5 - Talkeetna
Scenic flight over Denali National Park (8:30 am - 9:30 am)
Scenic Jetboat Tour (12:00 pm - 3:00 pm)
Alaska Railroad - Talkeetna to Anchorage (4:40 pm - 8:00 pm)
Tour Ends
Denali Explorer
2008 Peak Season Rates
Valid June 1 - August 31, 2008
Single
1 per room
Double
2 per room
Triple
3 per room
Quad
4 per room
Child
Ages 2-11
$2035
$1399
$1210
$1117
$485
Prices are stated per person. Taxes and fees are not included. Rates and dates are subject to change without notice. This package may be booked directly with Alaska Heritage Tours or through your personal Travel Agent. Click here for Booking Terms and Conditions.
[ Back to 'Adventure Packages' ]