National Park Rail Tour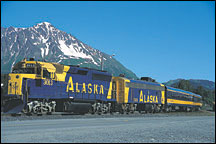 Alaska Railroad
8 Days & 7 Nights
The National Park Rail Tour provides the perfect combination for Railroad enthusiasts and National Park Lovers. Explore the wildlife and glaciers in Kenai Fjords National Park with Kenai Fjords Tours. Ride the Alaska Railroad through narrow valleys past massive glaciers and jagged mountain peaks. Access Alaska's backcountry by rail and float past icebergs near Spencer Glacier as you continue towards the Placer River for a scenic trip through spectacular wilderness.
Board the Train in Anchorage and continue north to view the spectacular beauty of Mt. McKinley from the Talkeetna Alaskan Lodge. Escape deep into the heart of Denali National Park where the unspoiled beauty of 6 million acres surrounds your cabin at the remote Kantishna Roadhouse. Complete your adventure on the Alaska Railroad from Denali to Anchorage.

National Park Rail Tour includes:
Day 1 - Seward
Day 2 - Seward / Girdwood
Exit Glacier Tour (8:30 am - 10:30 pm)
Resurrection River Rafting (1:00 pm - 3:00 pm)


Alaska Railroad Seward to Girdwood (6:00 pm - 8:55 pm)
Overnight Alyeska Resort
Day 3 - Girdwood / Spencer Glacier / Anchorage
Train Girdwood to Portage / Spencer Glacier (11:15 am)
Spencer Glacier Raft Trip more details
Coach Portage to Anchorage (5:15 pm - 6:45 pm)
Overnight Anchorage Hotel
Day 4 - Anchorage / Talkeetna
Alaska Railroad to Talkeetna (8:15 am - 11:05 am)
Scenic flight over Denali National Park (4:30 pm - 6:30 pm)
Day 5 - Talkeetna / Denali
Add an optional scenic flight over Denali

Note: Scenic flight is not included in package tour price.
Scenic Jetboat Tour (2:30 pm - 4:30 pm)
Early evening narrated motorcoach - Talkeetna to Denali (6:00 pm - 9:00 pm)
Overnight at the entrance to Denali National Park
Day 6 - Denali Backcountry Adventure
Narrated bus into Denali National Park (2:00 pm - 8:00 pm)
Overnight at Denali Back Country Lodge
Day 7 - Denali Backcountry Adventure
Activities at leisure
Second overnight at the Denali Backcountry Lodge
Day 8 - Denali / Anchorage
Bus to Denali Park Entrance (6:30 am - 11:30 am)
Alaska Railroad Denali to Anchorage (12:15 pm - 8:00 pm)
Tour Ends
National Park Rail Tour
2007 Peak Season Rates
Valid June 15, 2008 - August 31, 2008
Single
1 per room
Double
2 per room
Triple
3 per room
Quad
4 per room
Child
Ages 2-11
$3617
$2685
$2420
N/A
on request
Reverse itinerary available upon request. Significant discounts are possible in May or September based on availability of accommodations and activities. Prices are stated per person. Taxes and fees are not included. Rates and dates are subject to change without notice. This package may be booked directly with Alaska Heritage Tours or through your personal Travel Agent. Click here for Booking Terms and Conditions.
[ Back to 'Our Favorites' ]