Anchorage Activities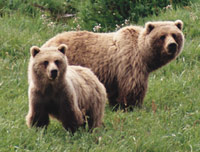 Anchorage is a hub for some unforgettable Alaska attractions. Check out the Alaska Native Heritage Center, go on a bear viewing or flightseeing tour, and more.
Anchorage Day Tours (8+ Hours)
If Anchorage is your base for a couple of days, consider some of these great Alaska experiences for the day right from your hotel.
---
Wilderness Explorer Glacier Cruise in Prince William Sound

Get away for the day and explore pristine Prince William Sound on a glacier cruise. Tour includes transportation to and from Whittier in addition to the glacier cruise, which includes lunch. More information: Wilderness Explorer Glacier Cruise with Coach

---
Scenic Drive and Glacier and Wildlife Cruise in Seward

Enjoy a scenic ride by coach on the Seward Highway, registered as a National Scenic Byway. Then jump on a glacier and wildlife cruise in spectacular Kenai Fjords National Park. Return to Anchorage in the evening. What a day!
Duration: 7am to 9:30pm
Adult Pricing: $193.00
Child Pricing: $96.50
Anchorage Attractions (Less than 3 hours)
---
Alaska Native Heritage Center

The Alaska Native Heritage Center is Alaska's premier interactive cultural experience and the only place in Alaska where you will come face to face with all of Alaska's native cultures. You'll see performances by authentic Native dance groups or hear stories shared by village elders. The Hall of Cultures features traditional and contemporary Native lifestyles and Alaska Native artists sharing centuries old crafts with you. The 2007 theme is "Living from the Land and Sea" which highlights how Native people survive on a daily basis by gathering their food and securing their shelter while living a subsitence lifestyle.
Summer Hours: Daily 9:00am - 5:00pm
Adult Pricing: $23.50
Child 7 -16 Pricing: $15.95 (children under 6 free)

Bear Viewing Flightseeing Tour
Two unforgettable Alaska experiences on one tour. Enjoy majestic Alaska scenery from the air and see brown bears in their natural habitat. Glaciers, active volcanoes, and brown bear feasting on wild salmon are on the tour agenda. There are several tours to choose from to fit into any vacation schedule.
Call us today at 1-877-777-2805 to hear more about these tours and make a reservation.
Alaska Zoo
The Alaska Zoo exhibits year-round and also provides homes for arctic and sub-arctic wildlife as well as some exotic animals. There is a free shuttle from most major hotels. Check out the Zoo
Bicycle Rentals
Anchorage has an incredible greenbelt and trail system right in the heart of town. You may even see a moose or two! A great way to explore these trails is by bicycle. A convenient bicycle rental shop is on the corner of 5th and L St., at the Copper Whale Inn. Access to the famous Tony Knowles Coastal Trail is right down the hill. Call the inn for rental information at (907)258-7999. Or you can rent them at Downtown Bicycle Rentals, located right downtown on 4th Ave.
Anchorage Shopping
Since Anchorage is the economic center of Alaska, you can find anything you need here as well as some great Alaskan souvenirs, art and keepsakes.
Malls
Anchorage boasts four major malls. The most centrally located mall for visitors is the Fifth Avenue Mall, located downtown.
Gifts and Souvenirs
There are many gift shops easily accessible from downtown hotels to get all your Alaska souvenirs and gifts. Check out this list of souvenir and gift shops from the Anchorage Convention and Visitors Bureau.
Authentic Native Arts and Crafts
An excellent place to purchase authentic Alaska Native art and crafts is at the Alaska Native Medical Center gift shop. Proceeds go directly to each individual artist.
Two other great shops which you can be assured carry authentic pieces are at the Anchorage Museum of History and Art gift shop and at the Alaska Native Heritage Center gift shop.
Anchorage Culture and Heritage
There are a number of places where you can learn about Anchorage's history and culture.
Anchorage Museum of History and Art
This museum has a comprehensive collection of artifacts and pieces documenting the history of Alaska from the end of the Ice Ages to the present.
Alaska Native Heritage Center
Mentioned above, this is a singular place to learn about Alaska Native culture and the only place in Alaska where you will come face to face with all of Alaska's native cultures.
Anchorage on a Shoestring - Free Things to Do
There many things that you can do to enjoy Anchorage that don't cost anything at all.
Tony Knowles Coastal Trail
Named after a former Anchorage mayor and Alaska governor, the Tony Knowles Coastal Trail hugs the Anchorage shoreline and provides great views of Cook Inlet, and on a good day, Denali. Take a walk or rent a bicycle and go. Access from downtown is at the northern end of 2nd Avenue, or at the western end of 5th Avenue.
Hike Flattop Mountain
Flattop Mountain is the most climbed mountain in Alaska and offers dramatic views of Anchorage, Cook Inlet, and the Chugach Mountain range. Access info is available from this Alaska Trail Information Website
Take a Drive Along the Spectacular Turnagain Arm
Watch the rocky cliffs to see Dall Sheep. The tides in this area change up to 27' in 12 hours, revealing a muddy quicksand-like beach at low tide. Continue this breathtaking journey through the Portage Valley and over Turnagain pass to Seward. Keep a sharp look out for moose, mountain goats and black bears this time of year!
Wild Salmon on Parade
Every year Alaskan artists participate in this outdoor art exhibit to the benefit of visitors and locals alike. These artist design a salmon sculpture and all are displayed around the downtown area. The pieces are auctioned at the end of the season as a fundraiser for local charities. Get a map of their locations and a preview at the Anchorage Convention and Visitors Bureau website.
[ Back to 'Alaska Activities' ]